Little advice from the former owner
Hello, I'm Tono. Regarding the KAWASAKI GPZ900R, which I was riding until last year of February (2018), to those who are hesitating to purchase like saying "I'm interested, but what is it?". As a former owner of this motorcycle, I will give some advice.
I will try to introduce it with such! How does it feel when ridding and also about the failure. *Please enjoy my comment as my personal opinion, lol.
GPZ900R reviews
Let's take a quick review about the GPZ900R. KAWASAKI GPZ900R is a liquid-cooled 4-stroke 4-cylinder road sport motorcycle, which was released in 1984 in North America. It was given the nickname "Ninja", it spread to the American riders as a "Ninja or GPZ900R", and even in Japan. The newly designed liquid-cooled engine has a lot of new components, both good and bad (lol), and it can be said that it is a wonderful engine widely loved by the world.
Ninja with such a nice engine appeared as a favorite motorcycle of Maverick (Tom Cruise) of the movie "TOP GUN" and became even more popular. Due to the popularity, each manufacturer has an abundant lineup of parts, almost 20 years after the end of production and even now there is no shortage of parts for maintenance to custom.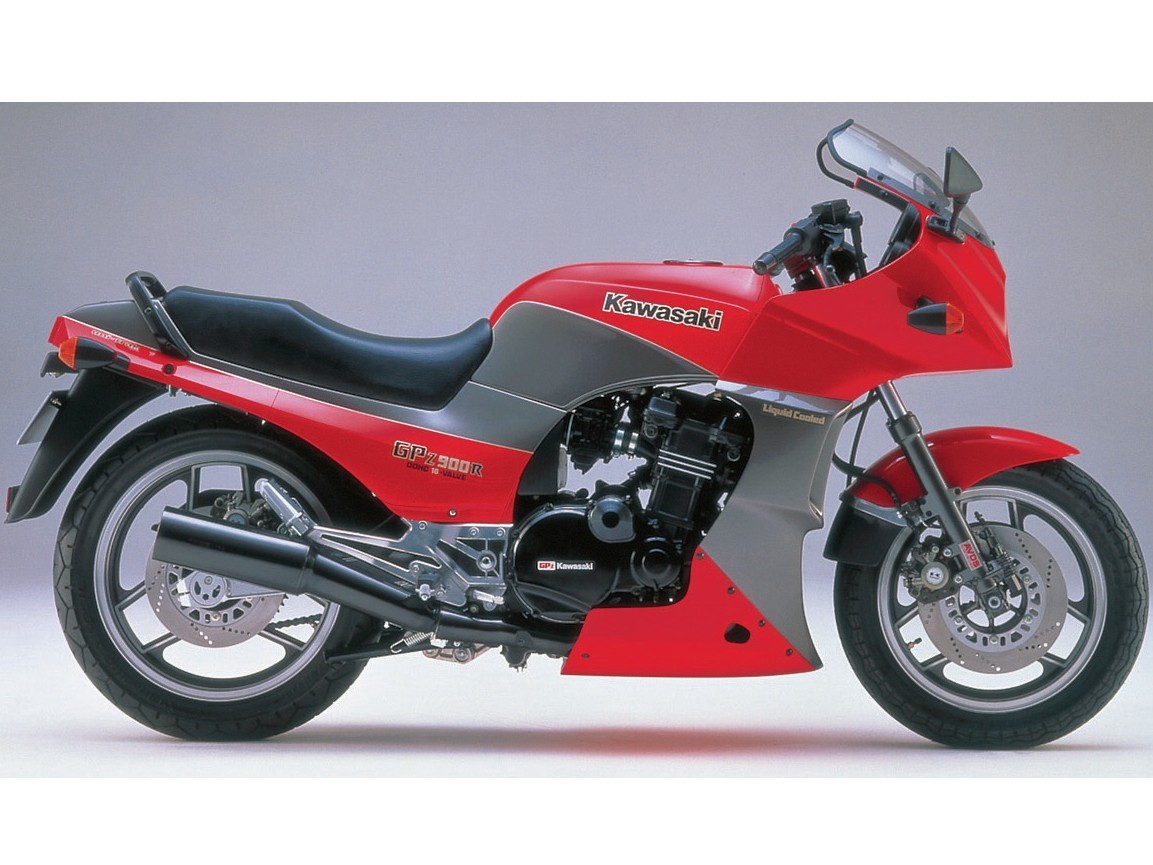 ▲ GPZ900R Ninja (A1 1984)
The image is only an image.
The younger generation must be wondering, "What about Ninja after all?" Ninja is a famous motorcycle of KAWASAKI that is liquid-cooled 4-stroke 4-cylinder, "I dare to call it with Ninja instead of GPZ900R". It's okay. It is natural.
The image of Ninja for those riders who have never been ridden a Ninja, "it is big heavy, hard to ride, it seems to be hard to ride because of the bad body, it seems to be fragile and hard to maintain, It looks slow, need to wear silver accessories and denim vests, and it seems to have the wallet with a chain from the leather pants (lol)", but it's just only an "image" before. I also did that 15 years ago.
Let's buy a dream motorcycle in "timing and momentum!"
I originally liked KAWASAKI motorcycles. I rented Z400GP, ZEPHYR, and ZZR1100. I also bought motorcycles such as ZRX400II and ZX-9R, all those motorcycles I was riding before, but I thought that "I want a Ninja someday" and every time I replaced my motorcycle Ninja is my first candidate.
And suddenly.
I got a phone call from my favorite motorcycle shop it says, "You want a Ninja right? Mr. 〇〇 took the Ninja to trade-in, how about you?"
Mr. 〇〇 is a rider who goes to the same motorcycle shop as me, and I knew he was doing good maintenance on his motorcycle (good condition). Actually, I was longing for the black x silver color of the reverse import motorcycle, and I thought that the exterior and the interior would be managed later, so I impulsively bought the American specification color lime green (A12) of Mr. 〇〇, which was exceptional for the situation. Maybe the motorcycle I'm hoping for is just the kind of cool if there is a right timing + momentum (lol).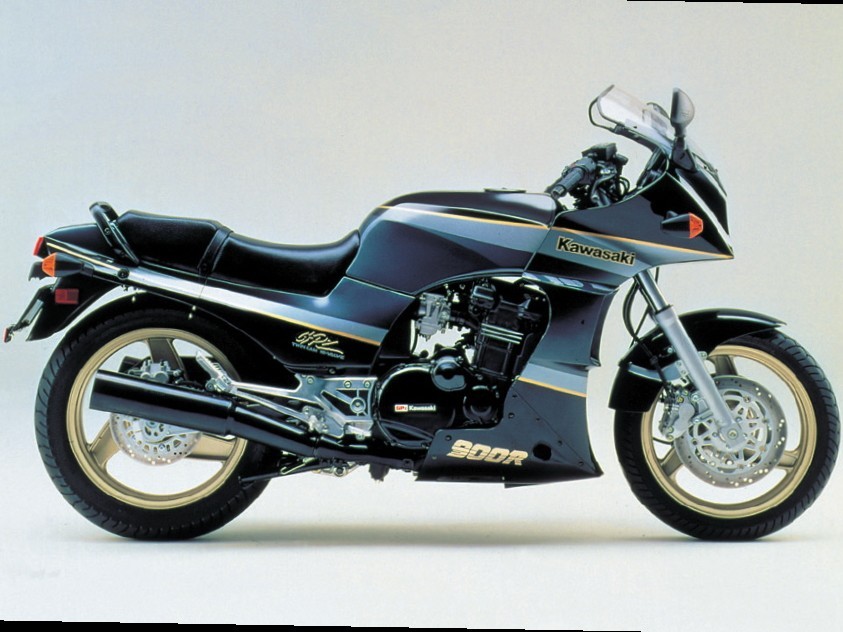 ▲ The first color I wanted was black x silver
If you think it's naked, it's OK.
The Ninja of my dream is delivered and finally, I ride. All the Ninjas I bought are normal except for the radiator. As I mentioned earlier, I also had an image of Ninja as "heavy, big, and strong and difficult to ride". However, after running for a while, I was surprised! Extremely easy to ride. The most surprising thing was that the angle of the steering wheel was larger than expected.
Since it was a full cowl + separate handle, I thought that it would be the same cutting corner as my ZX-9R. When I got on the Ninja for the first time and turned left at the intersection, I said, "Oh no! How far can I cut?! and I just remember being upset like it was yesterday. The U-turns and narrow streets are also perfect.
The Ninja is positioned as a "sports tourer" of the full cowl, you can think of it as close to the Big Naked as its running sensation. Compared to the current motorcycle, which is high in seat height, it's possible to feel a bend in the buttocks. Those riders who are accustomed to riding the latest motorcycle, it may feel that the front tires are slightly out of the way is they could imagine.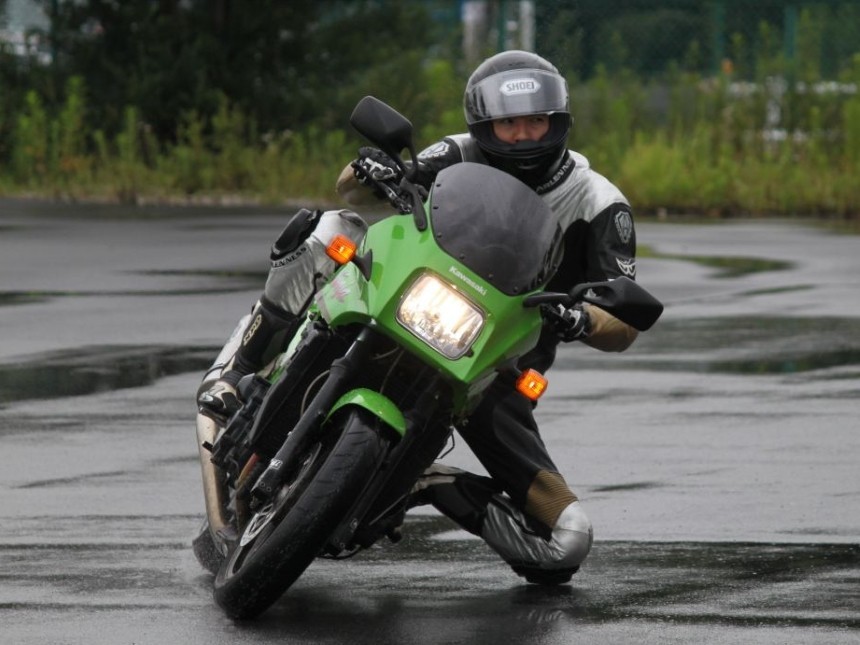 ▲ The pylon slalom in rainy weather is also whirling (although pylon is not visible)
The pipe handlebars are depending on how to ride and riders position
One of the factors that the image of Ninja is "difficult to ride, long tank, and far handlebar". Although there is a difference according to body type, I think that many riders think that when the handlebar is far away it is difficult to operate compared to the latest bike.
The pipe handlebar is made of steel plate. The tank cannot be shortened, but you can pull the handlebar closer to you by changing to the pipe handlebar. Expensive kits that replace the entire top bridge and a convenient type that are excellent in cost performance are also available. Since most of the standard Φ22.2 handlebar can be used, the general-purpose handlebar can be used to adjust the angle and height at your style. By doing this customization it will enhance the nakedness of Ninja.
*The cables/hoses such as throttles and brakes/clutches need to be replaced with a longer type than normal.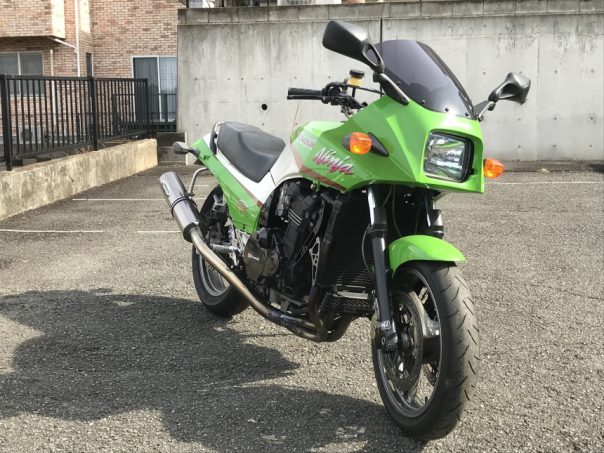 ▲ It is hard to see but it is a pipe handlebar type
Endless Customization
The Ninja has a lot of exclusive custom parts. The exterior and muffler are custom parts that are common to customize for the latest motorcycles and also parts like carburetor, engine, frame related, swing arms, forks, suspensions, and wheels. So, there are enough choices from multiple manufacturers and types of each part. I'm exaggerating a bit, it can be customized endlessly until the OEM parts will lose. (lol)
I wanted to keep the normal appearance of the Ninja, so I kept the exterior just like removing the cowl and replacing the screen. After that, I customized the exhaust system, carburetor, high camshaft, footpegs, big radiator (from the time I bought), pipe handlebars, rear suspensions, and disc brakes. Although it was an American specification, it has been reborn by replacing with the carburetor (TMR), high camshaft (YOSHIMURA stage 1), and exhaust system.
Since the GPZ900R Ninja is a vintage motorcycle, there is interference with the footpegs when replacing the exhaust system → replace also the footpegs at the same time. Since the STD footpegs have also pillion footpegs, the pillion footpegs kit are prepared separately (if necessary), so if you customize one part, you often have to take measures for other parts at the same time. It costs a certain amount of money, but the reward is big and worth it.
Failures and Malfunction occurs, but it's alright
Even if you buy a motorcycle with a good degree, that sooner or later it will come out of the failures and malfunctions. Due to the impact of the side camshaft chain and the head shape of the left side, the water is easy to accumulate in the plug on the 1st side, depending on the warm-up method the camshaft can be easily squeezed. I lost the claw of the water pump gear, and as a result, cooling water spouted out. (lol)
Some parts are fragile and it is the disadvantage unique to Ninja, there are also some parts need to be taken care of like a vintage motorcycle. However, all of those problems have countermeasure products, and you can also see a lot of information from the riders who have the same experience by researching through the internet. There will be failures and malfunctions, but its gonna be alright.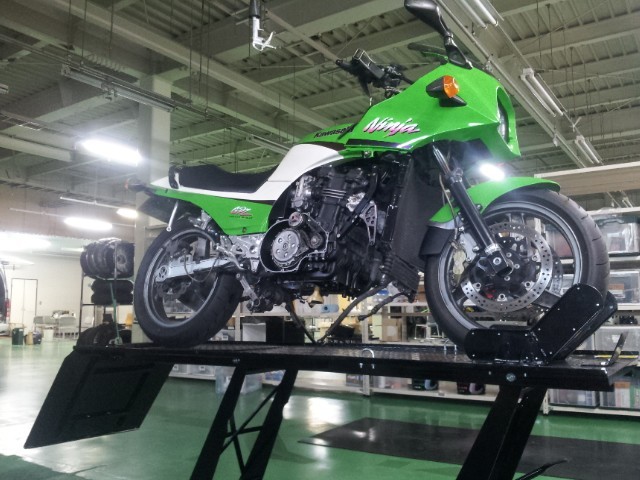 ▲ To keep the good riding condition of the motorcycle, it is important to have habitual maintenance whether it is big or small.
It costs a little money, but this motorcycle is already discontinued in the market.
I've written this article for some reason, but actually there is no GPZ900R Ninja available in the market today! However, it will take more money to maintain good customs and conditions compared to the latest model.
You can't write "how much" or about "how much is it?" Because it varies greatly depending on how much custom you want and what level you want to maintain. The maintenance costs can be reduced if you can see a motorcycle that is still in good condition, so first of all, try to find a motorcycle shop that has been a lot of experience in Ninja.
General Comment
| | |
| --- | --- |
| Advantage / Satisfaction | There are many maintenance and custom parts available. Also, NINJA looks are awesome after all! |
| Disadvantage / Dissatisfaction | In particular, the STD engine of the Japanese specs is a slow motorcycle and unrefined for those who know the current motorcycle. However, it will be totally reborn with a carburetor + high camshaft + exhaust system. |
| Advice for future buyers | The first time ride person has a handlebar turning angle enough to surprise, making it easier to ride a straightforward than it looks. The oil is hard to get up to the head and can easily bite the cam. For the reason, the long warmth of stopping is not good. Gradually warm up while riding slowly. |
See Accessories of YOSHIMURA
See KAWASAKI Moto Index Page
See Accessories for KAWASAKI GPZ900R Ninja
See Accessories for KAWASAKI Z900RS
See Accessories for KAWASAKI ZX-9R Ninja
See Accessories for KAWASAKI ZRX400II
See Accessories for KAWASAKI ZZR1100 (ZX-11)
See Accessories for KAWASAKI Z400GP