Suzuki V-Strom 1000 Owner Review
Webike Community "Let's Talk About Your bike! From the campaign, here's an enthusiastic narrative from "Amembo," who rides a V-Strom 1000!
He gave us an in-app review of the V-Strom 1000, including the good points and the frustrations, which he knows well because he's the owner.
brief self-introduction
Motorcycle history and how I usually enjoy my bike.
I've been riding motorcycles for 35 years, mainly Suzuki cars. I usually enjoy riding solo touring to hot springs on the weekends. I also enjoy long distance touring with my friends several times a year (2 days and 2 nights).
How long have you been riding this bike?
I bought this bike two and a half years ago with a superb test ride, and it has traveled 14,000 km.
Purchase motive and purpose
The purchase motive does not get tired in long-distance touring and can be used also for Hokkaido touring (of hot spring touring). When I was looking for a (flat dirt) bike, the V-STROM 1000 was released and it was a great idea. I've been looking for it for a long time. I was looking for a new bike because my budget is not good enough for a new bike, and I found a test ride bike with 100km. I bought it because it was.
Satisfactory/advantages
For the purpose
Anyway, it's easy. It doesn't get tired. We have to be careful when we stop because of the bad footing, but we can get rid of it by modifying the seat. I no longer have to fight sleepiness on the way home.
For running
It's fast enough up to about 150km/h. Beyond that, 4 shots are more of a stretch! The direct acceleration at 80-120km/h is good. Also tight corners are much easier than replica or naked.
For appearance
It's not going to be to everyone's liking because it's my favorite (lol). I've always admired the DR-Z in Paridaka, so I have no complaints about it personally. 1050 It's not as good as the XT...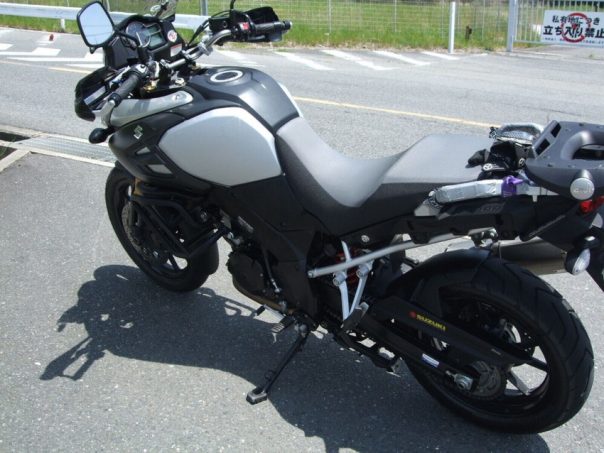 Disadvantages/weaknesses
For the purpose
It's not a good footing because of its height. It's lighter than its rival, but if it were another 10 kilos lighter...
For running
At normal speeds, the emblems are too strong and awkward at low speeds. The extension is also no good compared with 4 shots. However, the rewriting of the ECU was requested, and it was improved considerably.
For appearance
The shape of the side cover is not quite right; the 1050XT is better here. I didn't like the shape of the stock engine guards, so I installed PUIG guards.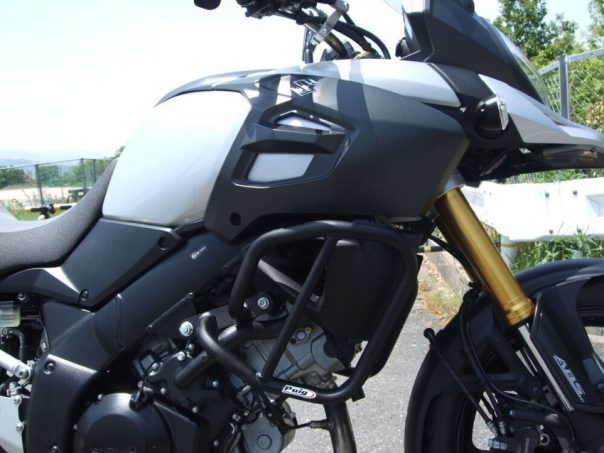 Summary (Recommended for people like this, etc.)
If you love the original beak, I recommend it unconditionally! You want to drive long distances at a reasonable pace, camping gear and tandem touring. This is a bike that is rarely seen compared to the V-STROM650, but the 1000's Power is still attractive. The high octane is sometimes a blemish, but I recommend it.