[HONDA CB1300SF SP] Detail & Test Ride Impression
Big naked CB1300 which can be said as the flagship of Honda finally appears in the SP specification!
It is even more powerful body even with free throws because it wears front and rear Ohlins for suspension and Brembo Monoblock caliper for front brake, even more presence is increasing.
We will imprint one unit that combines pleasures and dignity that are suitable for the top of the CB series!
The exercise performance of the contrary to the appearance of the impressive full score.
It only has a 1300cc inline 4 cylinder engine, and I felt the weight truly with push-pulling.
Still it seems that the motorcycle body is lightly felt when it starts running. The handling is also straightforward and it is light enough to beat down enough to think that it is "400cc !?"!
[Overall Length / Overall Width / Overall Weight]
2,200mm/795mm/1,135mm
[Vehicle Weight]
268kg
It is more severe than a seat height value.
[Seat Height]
790mm
[Foot Grounding]
The seat height is 790mm and it is not so high on the Spec..
However, because the width of the tank and the seat is wide, the foot grounding is worse than I thought.
It was about 173cm in height, I was sitting at the front of the seat and the heel slightly floated up, but with the 161cm staff, it was in a state of barefoot with both feet tiptoe.
By the way, the seat height of ordinary CB1300 will be 780mm, but the motorcycle height is raised by the exclusive Ohlins suspension at SP.
All kinds of light that became LED.
All kinds of lights, including blinker lights, are adopted.
Until the 2017 model, we adopted halogen for headlight and blinker but it became a sharp impression by becoming an LED.
The LED tail lamp with the motif of CB series traditional round eye is healthy.
[Headlight]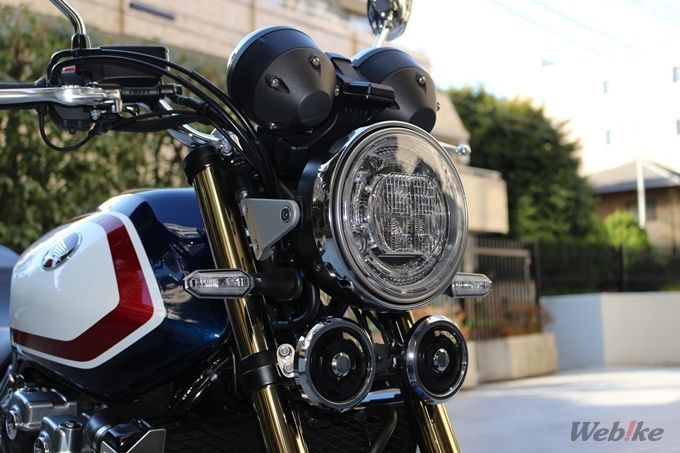 [Tail light]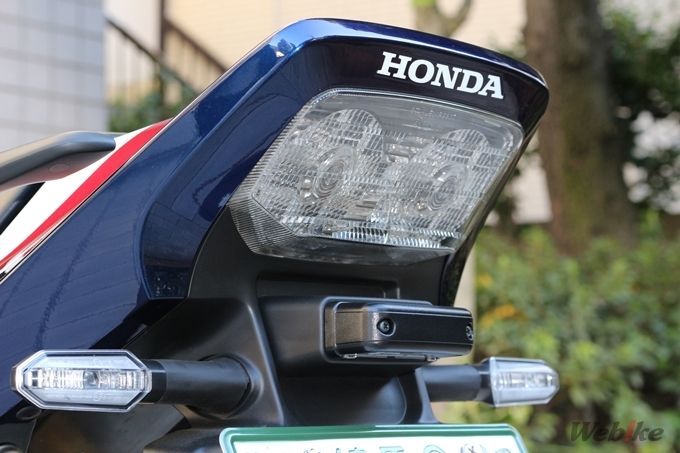 It is a binocular analog meter and an information-rich liquid crystal panel.
Traditional twin-lens analog meter is adopted as a meter.
It equipped with a clock, shift indicator, fuel meter and a liquid crystal panel that displays ODO, trip, fuel economy, outside temperature, water temperature gauge in a switchable manner in the center of the meter.
The standard grip heater is also displayed on the liquid crystal panel when the switch is turned on.
Handle grip heater standard equipment
The switch will be an orthodox type of Honda, but the left grip has an integrated grip heater switch.
Each time the grip heater is pressed, the temperature can be adjusted in 5-stages
This test ride was carried out in January of midwinter, but we decided to reconfirm the grip heater appreciation (lol)
It's correctly "SP" luxurious undercarriage
[Brake]
For the front brakes where the eye catchering is dangerous, Brembo radial mount 4 pod piston caliper is standard equipment.
Like the STD, the disk rotor is Φ 310 mm, but the master cylinder diameter and the brake hose are changed for SP only.
Braking force is certainly not complaining, but it was impressive that it was much more controllable and easy to handle.
It will not get stressed even in the city with many stops and goes because it is not too effective.
The rear brake is equipped with a small diameter single disc of Φ 256 mm and a single piston caliper. ABS is also standard equipment.
[Suspension]
It is an Ohlins suspension equipped before and after releasing an overwhelming presence with Brembo.
The front suspension is equipped with an inner tube diameter Φ 43 mm specially designed for SP and Ohlins upright fork.
The fork is fully adjustable and extends to the right and the compression side adjuster on the left. Adjustment of attenuation and preload of 20 stages on the left and right were possible.
The rear suspension is also equipped with Ohlins rear suspension.
It has a large capacity reservoir tank of Φ49 mm, a 20-stage adjustable wide range and a compression adjuster that allow fine setting with the front.
Unlike the conventional Orleans suspension for CB1300, the suspension is designed exclusively for SP.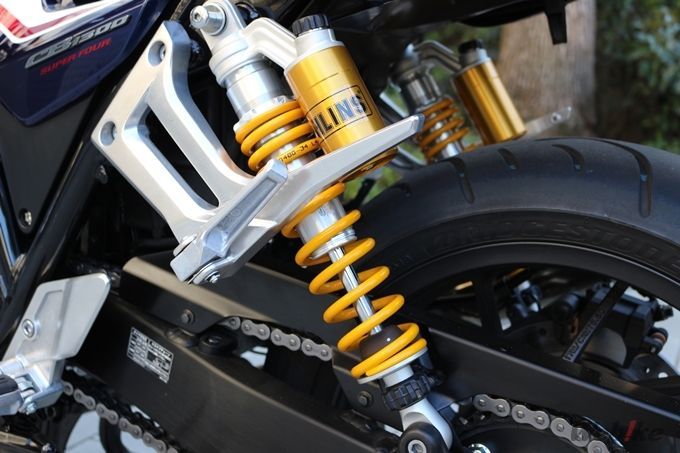 • Rear suspension specially designed is longer than STD by 8mm.
[Wheel]
The 10-spoke wheel which is like the current wheel design contributes to the reduction of unsprung weight.
By the way, the front wheel and inner disc of SP are adopted the same as CB 1100RS according to the equipment of radial mount caliper.
A mature engine and a powerful sound exhaust
The engine model will continue to be SC 54, but this is probably not an exaggeration to say that it is a nearly completed engine as a result of repeated aging from 2003 model change.
The maximum output of engines aged due to exhaust emission regulation and the installation of 6 speed transmission is up to 110. Improvement of intake and exhaust system, such as exhaust efficiency and review of map, will provide stable torque even at low rotation.
Above all, it seems big big naked big engine of 1300cc makes me expect powerful running from the appearance!
In addition, the assist slipper clutch, which is becoming familiar with small displacement, makes the clutch lever very light with large displacement.
It not only reduces fatigue due to clutch operation but also reduces sudden engine braking due to shift down, making it easy to handle while being powerful.
The normal exhaust will sound a heavy bass that seems to be a big motorcycle while considering the environment.
However, the design of the exhaust that is being miniaturized seems to be divided preferences.
Big Tank Full Volume
The volume of the tank is as large as 21 L as per the volume full point.
Still the circumference of the thigh will be sharp as easy to knee grip.
I am glad that the tank capacity is big, but I was a little worried that fuel economy is not so good as I expected.
※ That was about 13 km/L for the 100 km of fuel town on the main town commuter.
Not only seating comfort but also a seat is considered about a position
The seat is comfortable to sit with thick cushion!
The width was also wide, the degree of freedom position was also high, so load transfer was able to be carried out easily.
There was a large capacity space of about 11L under the seat and standard equipment ETC, cigar socket.
A helmet holder also a standard equipment next to the seat, and it became a number of equipments which are not troublesome first in daily life.
The price of the new CB 1300 you care about is?
Manufacturer's Suggested Retail Price (including consumption tax 8%)
CB1300 SUPER FOUR
1,483,920 yen (Body price without consumption tax 1,374,000 yen)
CB1300 SUPER FOUR SP
1,851,120 yen (main unit price excluding consumption tax 1,714,000 yen)
CB1300 SUPER BOL D'OR
1,591,920 yen (Body price without consumption tax 1,474,000 yen)
CB1300 SUPER BOL D'OR SP
1,959,120 yen (Body price without consumption tax 1,814,000 yen)
Although SP will be 340,000 yen up of STD, simply take the exchange back and forth, Ohlins and Brembo caliper will take more, so it is getting more than the amount.
Still it does not seem to be so profitable because it approached the mark of 2 million yen before my eyes. . . but
It is definitely recommended for those who are thinking of riding CB1300 on custom premises!
Summary
It was the first motorcycle I got on CB1300 including STD this time, but it was a very good motorcycle to express in one word.
Easy-to-handle engines accelerate from anywhere by turning firmly up to high rotation as well as medium and low rotation torques.
The body which turns fluttering more than the weight manifests itself as "the real pleasure of surviving" that the manufacturer lists.
If you want a greed, you wanted to set a little more Ohlins and run!
SP overwhelming presence is obvious, so please go to the store and see the real motorcycle! !
It will definitely make you want to ride it !
If you are also interested in CB1300 so far, check the link below for sure!
Soecification
CB1300 Main Specification [SP]
See HONDA Moto Index Page
See Accessories for HONDA CB1300SF (Super Four)