[HONDA CB1100 EX] Detail & Test Ride Impression
CB1100 which can be said as a flagship model of HONDA air-cooled four-cylinder model.
As its derivation, there are two types of model "RS" which was reinforced suspension and "EX" which was finished in more classic style.
This time, in the neo-classical heyday, I focused on "EX" that stuffed the real classic style.
For those who are concerned about CB1100, we will deliver a must-see test impression!
[Table of contents]
1.Appearance
2.Seat Height and Foot
3.Lights
4.Meter
5.Handlebar
6.Suspension
7.Engine and Exhaust
8.Tank
9.Seat
10.Price
11.Summary
12.Specification
Classic style with air-cooled engine
Among the CB1100 series, the biggest feature of EX is the front and rear 18-inches spoke wheels.
Plating parts attached to each part express the texture and luxury of the metal.
By combining these, it is creating a classic style that is somewhat nostalgic though it is the latest model.
[Overall Length / Overall Width / Overall Height]
2,200mm/830mm/1,130mm
[Vehicle Weight]
255kg
It is not a perfect foot grounding, but it is a sufficient.
[Seat Height]
780mm
[Foot grounding]
The seat height is not high so far, but due to the sense of volume of the engine and tank, it was not a perfect foot grounding.
Because the center of gravity was low, there was no concern to support the motorcycle body with signal wait even if the heel was floating.
EX is equipped with LEDs for headlights and taillights
The headlight is equipped with a headlight cover with chrome plating treatment together with the LED.
It also adopted LED for the tail lamp and visibility is outstanding even at night.
Luxury feeling of each part is further increased by chrome plating.
[Headlight]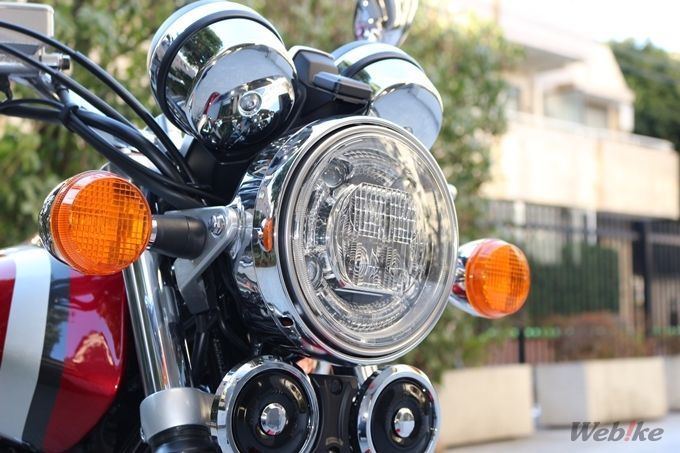 [Taillight]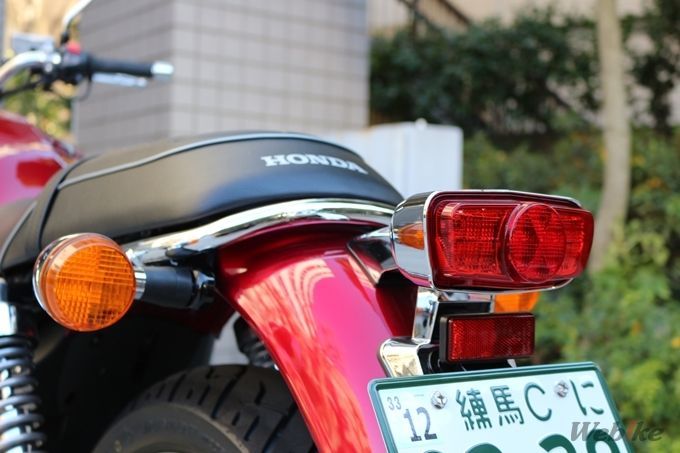 Analog double meter with full function
It is an two analog lens meter with full function which is common style for CB series.
Between the speedometer and the tachometer are equipped with a liquid crystal panel that displays a lot of information such as clock, shift indicator, fuel gauge, and switching type ODO, trip, inverse fuel margin meter. The temperature setting of the grip heater is displayed on the liquid crystal panel.
Usefull Grip Heater.
As a standard grip heater, the grip and switch become a unitary compact design.
The temperature can be adjusted in 5-stages, but the grip warms up quickly!
Flexible suspension of "EX" specification
[Wheel]
Front and rear 18-inches wheel are 40 stainless steel spoke wheels combining aluminum rim and small diameter hub.
Wheel weight reduced from the previous model contributes to light and stable handling.
[Brake]
The front brake is equipped with a floating disk of Φ296mm in diameter and an opposed 4 pod caliper.
The rear brake is equipped with a single disc of Φ256mm and a single pod caliper.
ABS becames standard equipment, brake performance is satisfactory.
[Suspension]
For the front fork, "Showa Dual Bending Valve" is adopted which can adjust damping.
As a seasoning, it is a supple and soft fork, but you can set the elongation side and shrink side according to your preference.
Fork boots were attached to the inner tube.
Rear suspension adopted single-cylinder type with chrome plating treatment.
Adjustment with the preload adjuster is possible.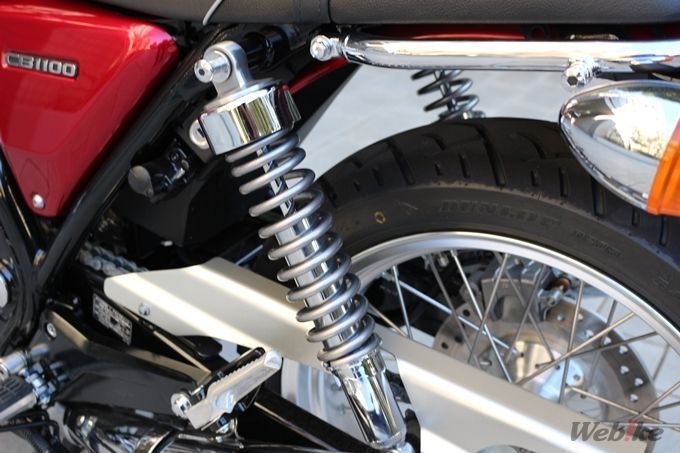 Air-cooled four-cylinder gentle sound and easy-to-handle torque
It is extremely easy to handle low-speed torque in a large displacement air-cooled in-line four-cylinder engine, and in the everyday area such as town riding and touring, between 2,000 and 3,000 rpm can run quite comfortably.
Also, not only the elongation of the high revolution when opening the accelerator tightly, as well as the powerful and sturdy sound like the air cooling sounds will raise the feelings of the rider!
It can handle long touring with plenty of clutch operation with assist slipper clutch and optimum gear selection by six speed mission.
A tank with beautiful shapes
A unique tank with a three-dimensional sense adopted a "flangeless fuel tank" that eliminates welding flanges.
The painting of the unified tank with the fender produces a high quality image with luxurious glow and stripes.
More than anything, "HONDA" three-dimensional emblem stands out the presence of the tank itself!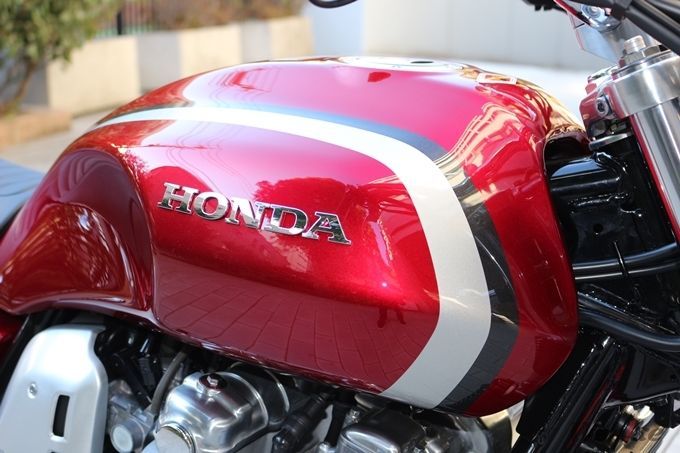 Retro and luxury seat
The tuck roll style seat not only increases the thickness of the cushion pursuing a comfortable feeling, but it also adds a high quality feeling by putting in silver piping.
There is not much space under the seat, but a separate ETC 2.0 is standard equipment.
It is equipped with a handy item such as a luggage hook and a helmet holder next to the seat.
The price to be worried about?!
Manufacturer's Suggested Retail Price (including consumption tax 8%)
・CB1100 EX
1,338,120 yen (consumption tax excluded price 1,239,000 yen)
・CB1100 RS
1,378,080 yen (Consumption tax excluded price 1,276,000 yen)
・CB1100
1,231,200 yen (Consumption tax excluded price 1,140,000 yen)
* Prices (including recycling expenses) do not include insurance premiums, taxes (excluding consumption tax), various expenses due to registration etc.
The price of EX is about 100,000 higher than STD, RS is even higher than EX.
Compared to the same Big Naked CB1300, it seems that the price is suppressed.
Summary
The first thing I felt when riding the CB1100EX was "to feel comfortable by riding".
It is certain that there is plenty of power depending on the large displacement, but you can enjoy the feeling of the air-cooled engine even at low speed and low rotation, so I was able to run with margin without feeling shoulder elbow.
It is not a speed or a riding that raged violently, but it is definitely recommended for those who just want to stream the streets and winding.
It is a "gentleman" that turns riders into gentlemen, coupled with a classy style full of luxury.
Specification
CB 1100 Main Specification ※It also stated "STD" "RS" as a comparison.
General Name
CB1100EX
CB1100RS
CB1100
Motorcycle Name and Type
HONDA・2BL-SC65
Overall Length (mm)
2,200
2,180
2,190
Overall Size (mm)
830
800
835
Overall Height (mm)
1,130
1,100
1,130
Wheelbase (mm)
1,490
1,485
1,490
Lowest Ground Height (mm)★
135
130
135
Seat Height (mm★
780
785
785
Rut Weight (kg)
255
252
256
Passenger Capacity (person)
2
Fuel Consumption Rate*2(km/L)
Ministry of Land, Infrastructure and Transport notification value:
Regular fuel consumption value*3
(km/h)
31.3 (60)
31.1 (60)
31.3 (60)
WMTC Mode Value★(class)*4
18.9 (Class 3-2)
Minimum Turning Radius (m)
2.7
Engine Model
SC65E
Engine Type
Air-cooled 4-stroke DOHC 4 valve In-line 4-cylinder
Total Engine Displacement (cm³)
1,140
Inner Diameter x Stroke (mm)
73.5 × 67.2
Compression Ratio★
9.5
Maximum Output (kW [PS] / rpm)
66[90]/7,500
Maximum Torque (N-m [kgf-m] / rpm)
91[9.3]/5,500
Fuel Supply Type
Electronic
Starting Method★
Self type
Ignition Device Type★
Full Transistor Type Battery Ignition
Lubrication Method★
Combined Cascade Pumping
Fuel Tank Capacity (L)
16
17
Clutch Type★
Wet Multi-plate Coil Spring Type
Transmission Type
Constant Mesh 6-speed Return
Gear Ratio
1-speed
3.083
2-speed
1.941
3-speed
1.478
4-speed
1.240
5-speed
1.074
6-speed
0.964
Reduction Ratio (primary ★/secondary)
1.652/2.222
Caster Angle (degrees) ★
27゜ 00′
26゜ 00′
27゜ 00′
Trail Amount (mm)★
114
99
114
Tire
Front
110/80R18M/C 58V
120/70ZR17M/C(58W)
110/80R18M/C 58V
Rear
140/70R18M/C 67V
180/55ZR17M/C(73W)
140/70R18M/C 67V
Brake Type
Front
Hydraulic Double Disc
Rear
Hydraulic Disc
Suspension Method
Front
Telescopic Type
Rear
Swingarm Type
Frame Type
Double Cradle