The worldwide popular adventure is dominated by a literally oversized model.
Meanwhile, Yamaha Tracer 900 and Suzuki · V Strom 650 are popular as easy-to-handle "middle class".
By the way, Mr. Hiroshi Maruyama, familiar with Young Machine Journal, is a professional line of sight, Mr. Tsuyoshi Takahashi writer throughly test-ride with ordinary people's eyes!
The way to catch a trip is different even on the same trip bike. Exciting tracer / mild V Strom
Both are so-called "traveling bikes" belonging to the category of adventure. With a long stroke suspension, it improves rough road traveling ability, considering comfort, it also supports long touring ... In that respect, it can be said that the same kind.
However, the way of catching a trip is quite different between Tracer 900 and V Strom 650. The aim vector is about 180 degrees exactly opposite, it can say.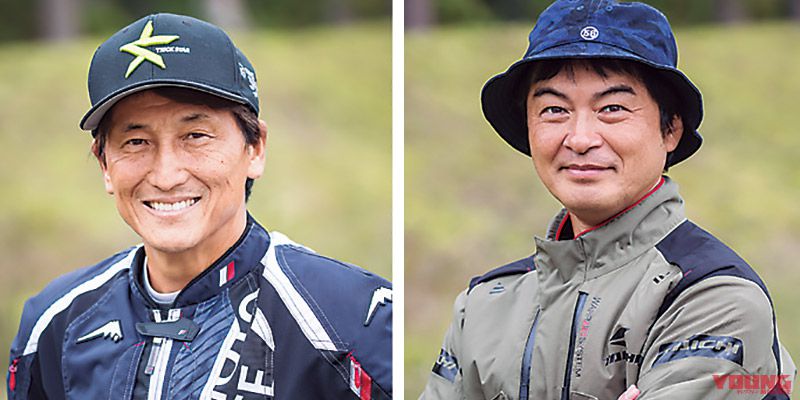 Tracer "Traveling while enjoying a bike." And V Strom uses a motorcycle as a tool of travel. This difference is big. Is the subject a riding, or is to travel?
Tracer is fun just running in any situations. Every time I open the throttle, I am thrilled and excited, my heart beats fast. The character of a parallel three-cylinder engine is also always motivated to rise greatly at 4000 rpm.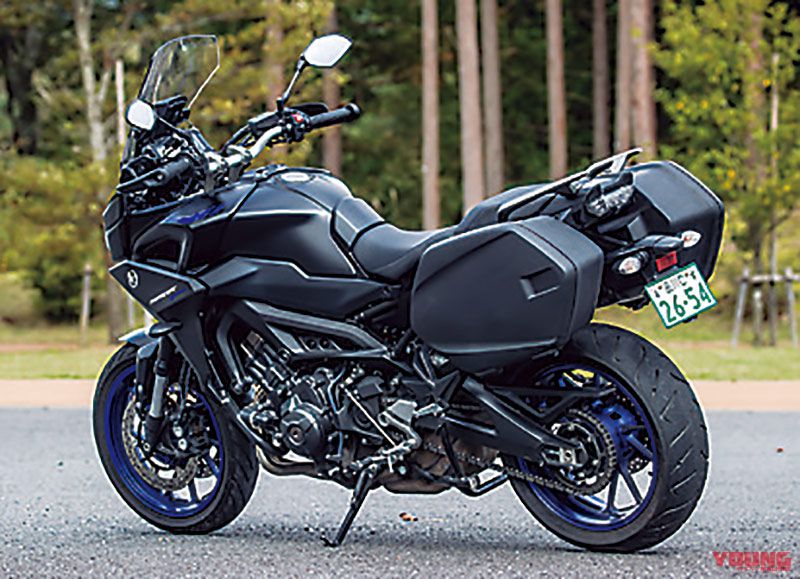 One V Storm is totally mild. The V-type 2 cylinder engine shows smooth acceleration from any rotation range, and the way the torque is exclusively flat. Since it does not choose the number of revolutions, it is suitable for a relaxed run.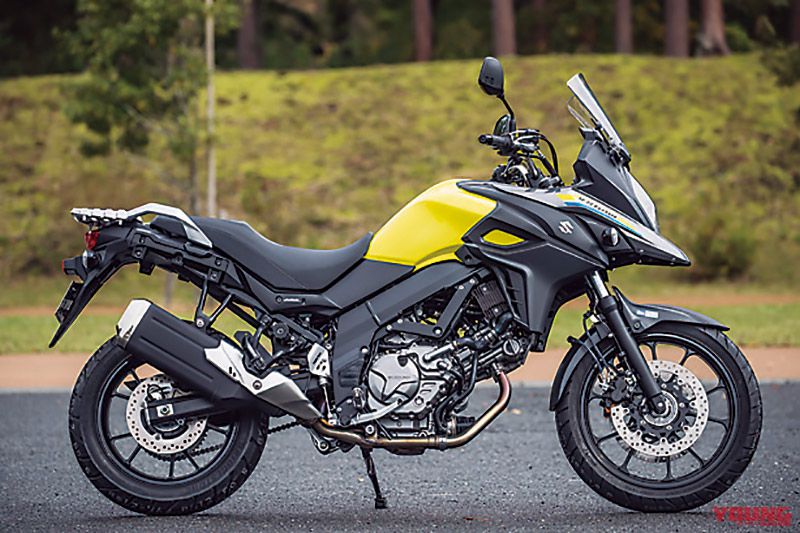 Exciting Tracer and Gentle V Strom. The distinct difference of the engine character makes each individuality stand out. If you compare it with a camp, it will be this way.
The tracer seems to be a trendy Grand Ping. Gramping which glamorous (attractive) multiplied with camping is a new outdoor style which can receive luxurious service comparable to hotel. It's a luxury time to enjoy the comfort and luxury of the open air at the same time.
From the V-Strom, a smart tent night is imaged. If you find a place of your choice, feel free and casually tent and taste the free time. It can be integrated with nature while being simple, and will be filled with deep joy.
It is not a thing to put superiority or inferiority. What kind of trip do you want to travel on a bike? What kind of time do you want to spend on a motorbike? Depending on your preference, you decide which of these two will be chosen.
Through comparison: Tracer vs V-Strom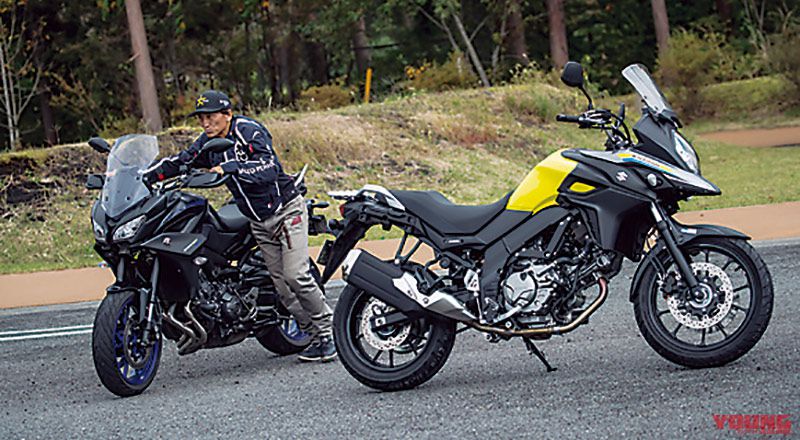 City ride impression
Professional line of sight (Maruyama): a fun tractor with city rides
Tracer is exciting anyway and fun town riding. "It will ride a motorcycle today!" Will enhance your motivation. It is perfect for choi riding because it allows you to ride quickly even at short distances. One V Strom is comfortable with the body smoothly, Running with serene and calm. Although I am not tired of being in the urban area where the stop & go repeats, it is lacking in the punch which seems to be a motorcycle.
Both models can not be said to have good feet on only the leg length system. As I was 168 cm tall, I had to shift Osiri halfway when I stopped.
General view (Takahashi)
Is it exaggerated to say "like a scooter"? V Strom does not care about that, and there is a sense of familiarity from the start of riding.
Since the eyeball tends to be triangular while the tracer is on board, self-control is necessary. A smart design that suits the city is truly Yamaha.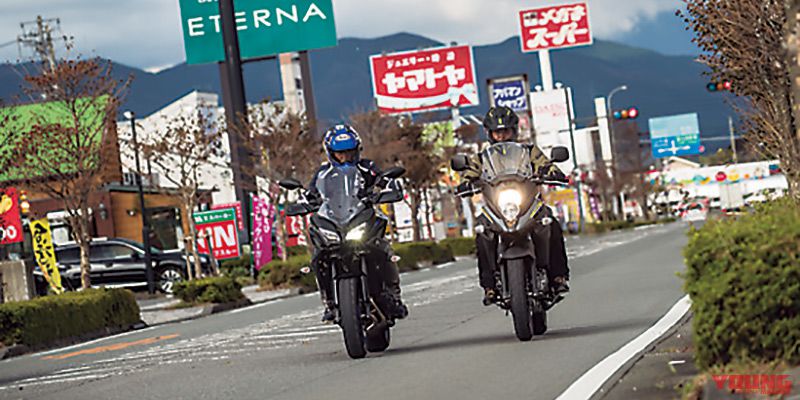 Highway Impression
Professional line of sight (Maruyama): the opposite character highlighted
A 69 ps V Strome is necessary and sufficient unless it intends to skip. It is strange that it will be divisible as "it is fine" as you run. It can be said to be a traveling tool for long touring throughly. I felt somewhat concerned that the wind blows were felt around the lower body.
The tracer is 116 ps and almost double of the V stroke. It is decided to be fast and interesting. Moreover, since the parallel 3-cylinder engine shows various expressions depending on the number of revolutions, it is good that there is a region where comfortable running is possible without skipping it. Although it got rain lightly on the way, the wind protection under the waist worked effectively, and it did not get very wet.
General view (Takahashi)
If cruising on the expressway at a constant speed, V Strom is good. It is suitable for running while watching the scenery and relaxedly wrapped in ruffle ...... and soft exhaust sound. It is a type that exercises its full value as the traffic volume is lowered away from the city. It is a bit of a worrying feeling that the seat feels slightly harder than the previous model. Also, because it is chill type it is crucial to want control.
If the traffic volume is large, and you run the acceleration and deceleration and the lane change repeatedly, the tracer. Although it is a little bit crowded, I am addicted to urban speed. The softness of the seat is very good impression. Wherever you want to try it by long cruising.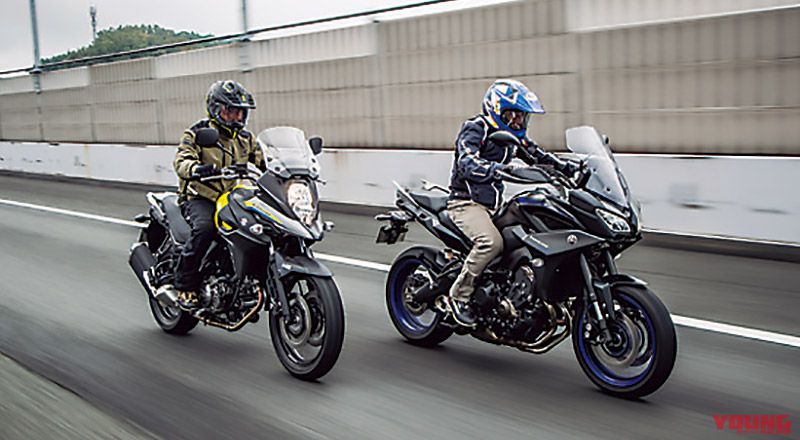 Winding impression: Tracer demonstrates pleasure (Maruyama)
Running winding, you can see well that both engines are engines. However, the expression is totally different. Needless to say, the tracer 's parallel 3 - cylinder engine is full of energy. The more you turn, the better your body will respond firmly to the high pace. It will be a wonderful run when the car speed and corner R sucks.
The V-Strom V-Twin engine can run like sewing at a reasonable pace without thinking about difficult things. Situations such as "going for running aiming at winding" and "going to winding in the middle of long touring" suits you.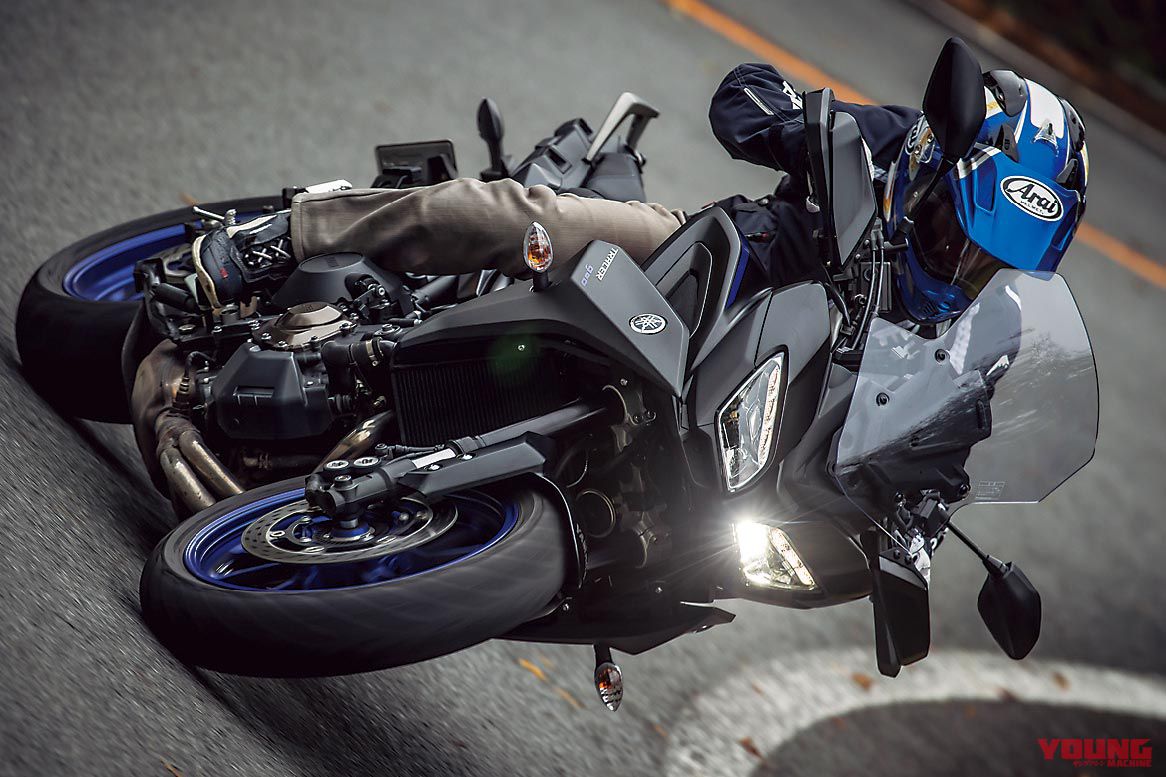 Winding impression: V-Strom (Takahashi) that tastes like chewy
Braking, shift down, let the motorcycle fall asleep ... .... Even with Winding, we will not just run like that. Especially in the case of long, it is pleasant (and not tiring) to run through the corners with just the on / off of the throttle. I feel the exquisite balance of V Strom's gentle feeling, "If you chew, it tastes like chewing". It would be amazing if I intended to make it. If it runs at short distances it is by far the tracer, but for those applications it will make you want to choose MT - 09 or XSR 900 which is lighter.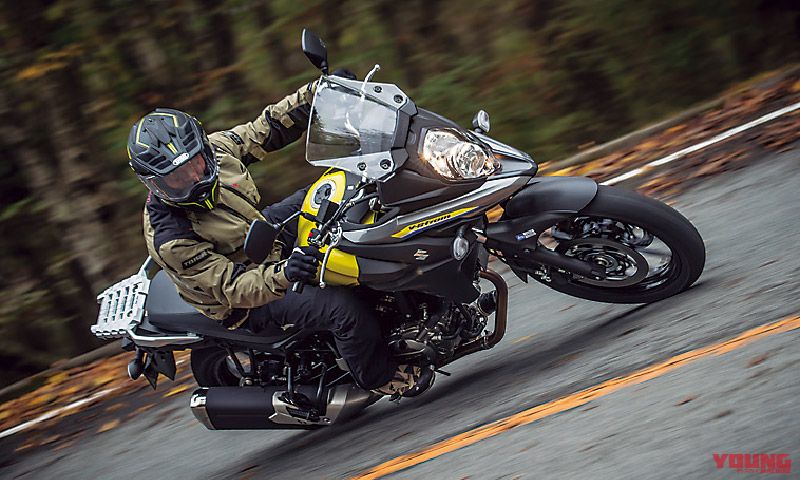 The concept of both cars that understand the difference as they get on
The tracer has a very high degree of completion. MT-09, XSR 900, and Tracer are representative examples of the Yamaha platform deployment sharing the basic skeleton with the engine, but tracers have reached a very high level of finishing as a journey bike.
The engine is also aging progressed, balancing stimulation and ease of handling. We emphasize user friendliness rather than excitement direction, and you can enjoy comfort without having to turn it.
Suspension is also fine. While it is a leg length system that moves frequently from the beginning of the stroke, the sense of stiffness works in the back. Even if the pace is raised by winding, it does not fail at all, combined with high rigidity body bodies and brakes with high braking power, it will show "pleasant" for the first time. If you dare say, you can not deny that there is an aspect that "bike's assertion is strong." This is a part of individuality that is directly linked with the pleasure of riding, so it can not be helped, but as a partner of a long journey, there is a sense of being hurried somewhat.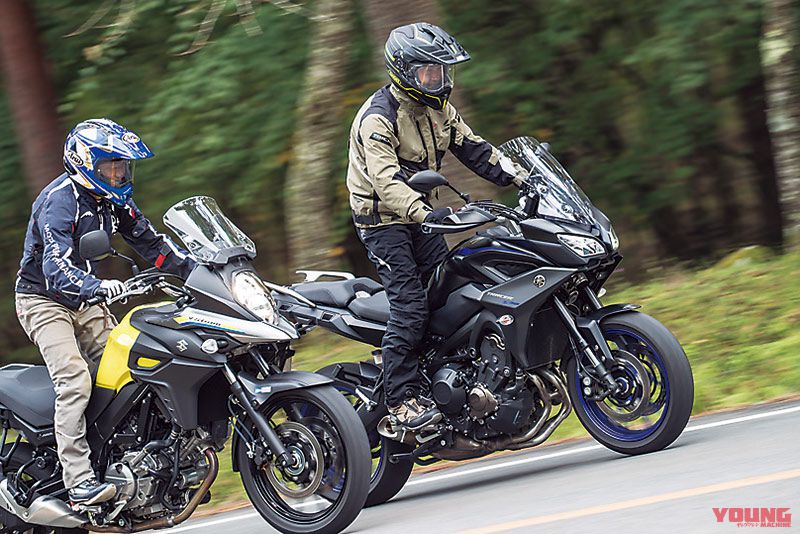 V-Strom is a truth. They insist on overdoing, and will be committed to the back of my journey. Frankly speaking, there is nothing excelent, nothing prominent. The more you get on it for a long time the more you get used to it. If you are on a V Strom, you become more conscious of yourself on that ride than on a motorcycle. It is a sense that "I am traveling as a subject".
The more authentic traveler, the closer the V Strom will come. For a rider who enjoys the journey itself, such as going somewhere, watching the scenery you like, enjoying the taste of the land, the V - Strom is a perfect fit. On the other hand, if you like maniac bikes, the V Strome may feel a little unsatisfactory. Ideal for traveling tools, but not enough punch as a bike.
Although it is in the same category, the aims of Yamaha and Suzuki are clearly different. While emphasizing the cohesion as a motorcycle, it is a tracer that enhances the charm as a riding vehicle. V Strom is improving completion as "tool" of travel. Well, are you a rider or a traveler ...?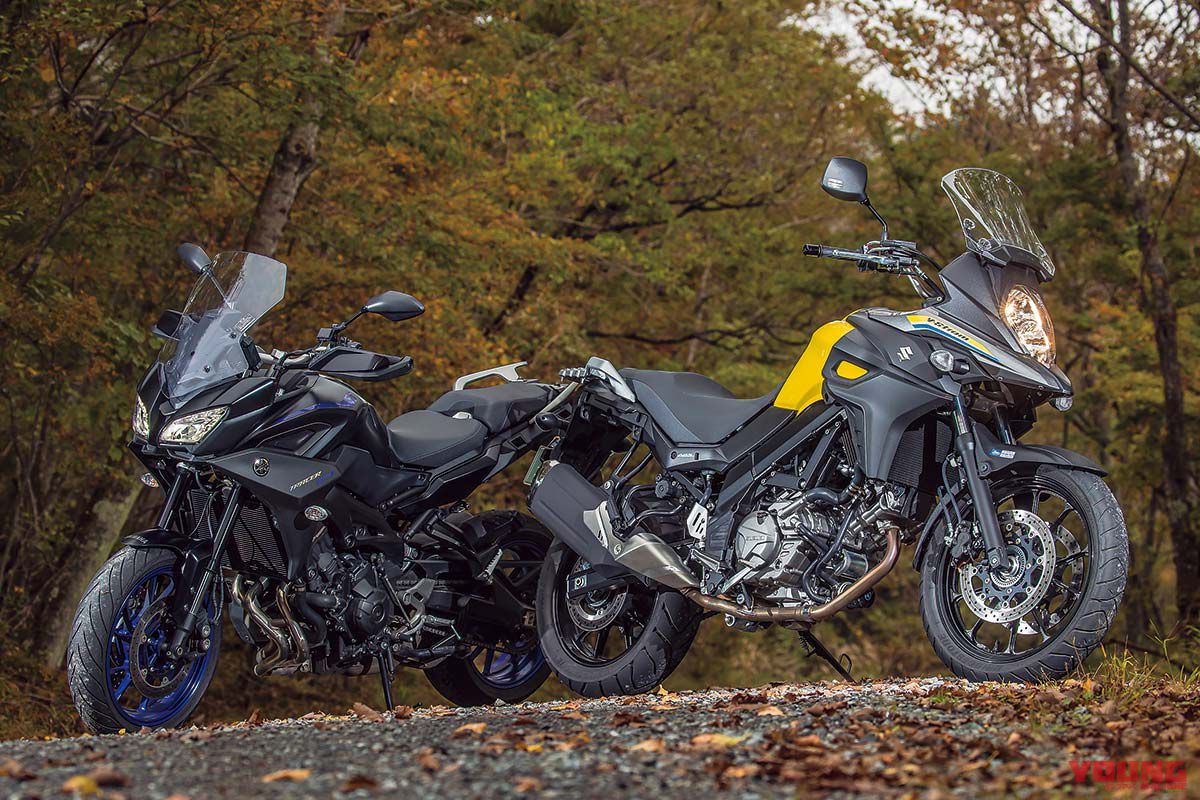 Conclusion: "What to see for a motorcycle". The answer is here
Tracer of impression that "It is designed with consideration to every corner, passing through streaks as a motorbike." It is well thought out, including the height of design that fits without choosing on and off. Including exciting runs, you can see the Yamaha-like claim that "Almighty in a motorcycle is this!"
One V Strome seems to be designed mainly by itself itself. As a motorcycle, there is looseness, it feels like it is not boiling down in small parts. However, it is certain that looseness will make long touring comfortable. If Suzuki is making it for this ride, it can be said that it is a considerable degree of ripening.
You will be able to choose from these two cars with distinct character differences without hesitation depending on what you want from the bike.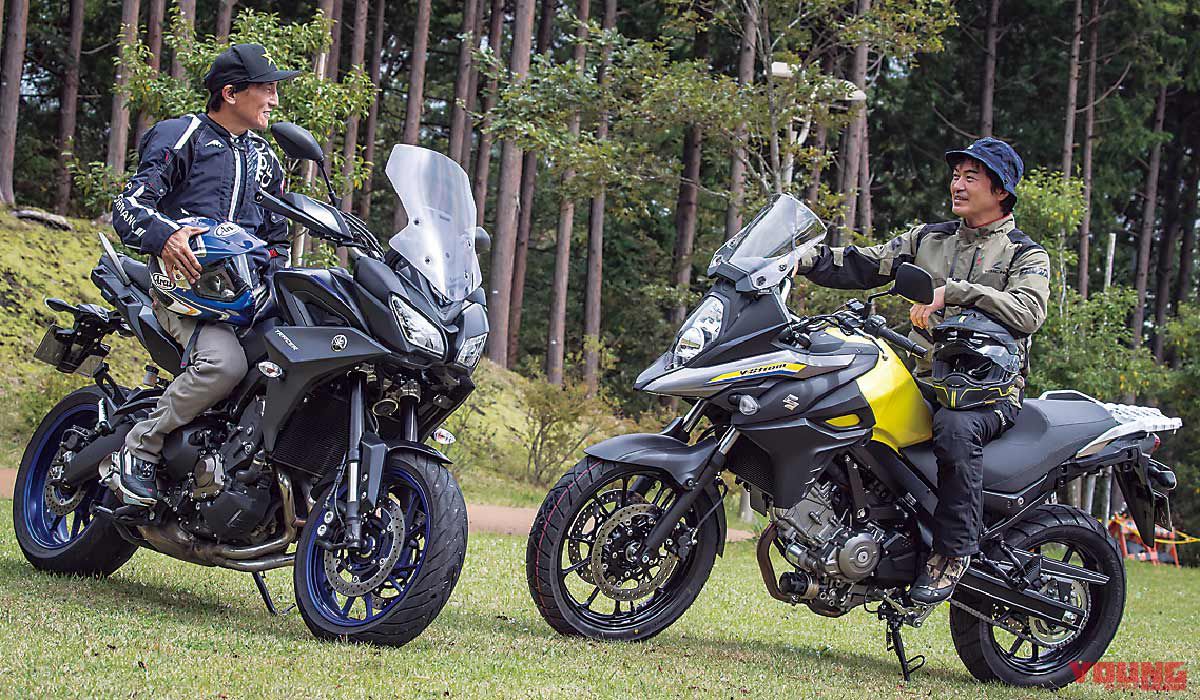 TRACER900[V-Strom650]
Full Length:2160mm [2275mm]
Full Width: 850mm [910mm]
Total Height:1375mm [1405mm]
Interaxis Distance:1500mm[1560m]
Seat Height:850/865mm [835mm]
Vehicle Weight:214kg [215kg]
Fuel tank capacity: 18 L [20 L] (both unleaded premium gasoline)
Engine type: water-cooled parallel 3-cylinder DOHC 4 valve [water-cooled parallel 2-cylinder DOHC 4 valve]
Total displacement: 845 cc [645 cc]
Maximum power: 116 ps / 10000 rpm [69 ps / 8800 rpm]
Maximum torque: 8.9 kg - m / 8500 rpm [6.2 kg - m / 6500 rpm]
Tire size front: 120 / 70ZR17 [110 / 80R19]
After tire size: 180/55 ZR 17 [150/70 ZR 17]
---
•Summary: Tsuyoshi Takahashi •Photo: Junya Yamauchi
•Interview cooperation: Yamaha https://www.yamaha-motor.co.jp/mc/、SHOEI https://www.shoei.com