Kawasaki GPZ900R Stock HACK
Webike CommunityMOTO HACKFrom the GPZ900R campaign, theninninHere's a passionate narrative from "Mr."!
We're the owner, so we know how to divert the stock GPZ900R!
A brief self-introduction
Introduction of my car
Beloved car : KAWASAKI GPZ900R A12 (1999 expression domestic specification)
How long have you been riding it: bought it used in 2009, and it will be 11 years old in 2020.
Motivation: I used to ride the same GPZ in the past and wanted to ride it again, but after it fell out of the catalog, I decided to buy a new bike because I thought I was going to run out of good quality balls. At the time, I was looking for balls and bought them for about 550,000 yen with about 12,000 km of mileage.
How to enjoy your everyday bike
Bike History: I got my license in my first year of college and I've been an a-laftie for about 30 years.
How to enjoy: touring and camping touring mainly. It's fun to wash down the mountain passes on the lower roads and take a hot spring. Long tours with a load of camping gear are great. (I'd love to go back to Hokkaido, Kyushu and Shikoku!
Annual mileage: about 2,000-3,000km and I'm still raising my child, so I haven't been able to drive the distance.
A brief description of this HACK

This is a way to lighten the heavy clutch, which is hard on the left hand in the second half of touring, and at the end of the touring, it's a bit of a chore to hold the clutch.
The clutch master of Ninja and others is 14mm in diameter./2(12).7mm) to make it lighter. This reduces the weight by 20% in terms of calculation.
Some of them are expensive, such as Brembo's variable ratio radial masters, but they can be modified reasonably well with stock modifications.
Parts, tools and things needed for this HACK
Replace the clutch master with a CB1300SF Assy.
CB1300SF (SC54)
Part Number: Cylinder Sub-Assy Clutch Master
Part number: 22890-MGY-641
The other thing you'll need is a Daytona conversion connector, as Kawasaki's has a 3 pole clutch switch and Honda's has a 2 pole switch. It's possible to short circuit it, but if you want to do it easily, here's what you need.

Daytona
Product nameRepair Parts for NISSIN Master Cylinder】 Switch Connector
Part number: 65615
Otherwise, you just need to have a fluid that is crutching the replacement process.
It's not a must, but a syringe (syringe) is useful to release air from the fluid.
How to do the HACK, instructions, work instructions, etc.

After removing the normal clutch fluid, remove the moto's clutch master and install the CB1300SF clutch master.
After installation, fill with fluid and vent the air. It is easy to use a syringe to release the air.
I think it's important to use towels and newspapers to protect the paint on the cowl and other parts of the car from being damaged by spilled fluid.
All that's left to do is replace the switch on the Clutchmaster with a Daytona switch connector and you're good to go.
Summary of HACK
benefits
It's quite a bit lighter to hold the clutch.
I no longer get sick of holding the clutch on the way home from touring.
You can also do this without destroying the stock atmosphere around the handlebars.
disadvantage
I'm switching the clutch switch from 3-pole to 2-pole, so if I don't hold the clutch, the engine won't start. (I used to hold the clutch to start the engine out of old habits, so it wasn't a problem.)
The pull on the clutch lever gets louder. (I had zero discomfort at a level where I could barely feel it.)
impressions
On the Ninja, the first thing to tinker with isn't the muffler or the Orleans suspension, it's the clutch master! It really made touring a lot easier.
I'm wondering what that pain was all about, and I think it's an effective way to do it because I think it's possible to do it with a hydraulic clutch on a bike other than the Ninja.
Thank you, ninnin, for posting that valuable stock diversion HACK!
Webike is looking for your behind-the-scenes tips to enrich your bike life!
~7/Up to 31 "Genuine HACK!You can get 500 points if you post "I'm not a fan of this!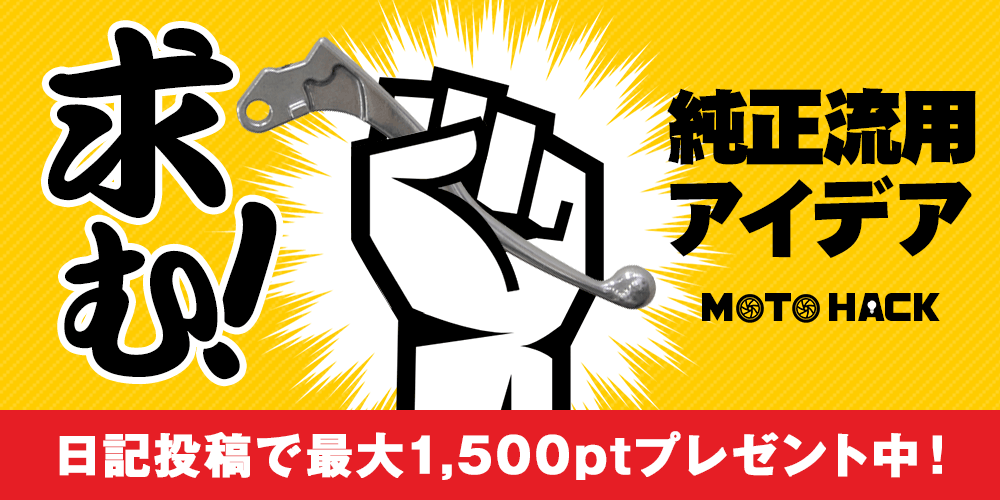 7/If you submit your idea about "diverting genuine parts" until 31, you can use it in Webike.500 pointsas a gift!
Plus, if you're featured in Webike Magazine, you can add1,000 pointsPresent.
Up to 1,500 pointsHere's your chance to get it!
Of course, we will give 1,000 points to anyone who is featured in Webike Magazine, even if it's not a "Genuine Parts Transfer" submission.
The Art of Biking You Have (HACK)!) with everyone!
I'd love to see your posts!
 The articles on MOTO HACK are composed and reprinted from user contributions. The effects and methods described are at the discretion of the user, and Webike is not responsible for any problems that may occur.