Yamaha FZ1 Feather HACK
Webike CommunityMOTO HACKFrom the campaign, the "FZ1 FeatherFAZER Black.Here's a passionate narrative from "Mr."!
I'm the owner, so I know how to divert the stock FZ1 Feathers!
A brief self-introduction

2017.Buy FZ1 FAZER on 8.
I'm getting to know a lot of the strengths and weaknesses (I think).
I've noticed, especially in traffic, that the clutch is heavy!
In touring and on the track, it's not a problem.
But STOP & GO in Tokyo!The clutch is often operated more frequently on roads and at low speeds with repeated roadway and low speeds.
There was a decisive event.
I was keenly aware of this when I took a safety riding school.
Frequent clutching at low speeds causes overuse of the left hand, with tendonitis and muscle pain.
We decided to take measures to optimize (tune) it.
A brief description of this HACK

YZF-R3 (MT-03 is the same). If you replace the stock part pull lever (part number 2MS-E6340-00) on the YZF-R3 (same for MT-03), the clutch will be lighter. Here are some tricks.
Parts, tools and things needed for this HACK
Required parts
YZF-R3 (MT-03 is the same) Genuine Parts Pull Lever (Part No. 2MS-E6340-00) for YZF-R3 (same for MT-03)

Distance between axes
Above Image.:FZ1 FAZER 40mm
image below:YZF-R3 48mm
How will it change with 8mm longer?
Does this principle reduce the weight of the clutch?
Tools needed

Left:.radio pliers
Right.Snap Ring Pliers
How to do the HACK, instructions, work instructions, etc.

The pull lever is attached with a snap ring, so the pull lever can be removed by removing the ring with snap ring pliers.
Replacing the pull levers with R3 pull levers; since the pull levers on the FZ1 were mounted at a different location, I repeated the test drive, only adjusting the clutch and splines, checking the clutch meet timing and half-clutch status.
It took a long time, but it didn't take me more than 30 minutes.
Summary of HACK

To see what I thought of the actual run, visit .......
I sure do feel lighter! (I haven't quantified it, but...)
There doesn't seem to be any significant physical changes, but if the pain in my hands is the same as before, I consider it a success.
The clutch and spline adjustments seem to have worked well.
It's almost as good as the clutch meet timing and half clutch before the replacement.
It's nice and easy to install, with no modification.
If you're an FZ-1FAZER or MT-09 user and you're having trouble with a heavy clutch, how about an inexpensive tuning?
Apparently the pull lever on the YZF-R25 is also interchangeable, but it's longer than the R3 and the clutch connects quickly (shallower), so I guess it's a matter of preference.
If you work on it yourself, please do so at your own risk.
 If you are not confident in your ability to install and adjust your bike, please consult a bike shop with a mechanic.
Thank you, FAZER Kuro-san, for posting the valuable stock diversion HACK!
Webike is looking for your behind-the-scenes tips to enrich your bike life!
~7/Up to 31 "Genuine HACK!You can get 500 points if you post "I'm not a fan of this!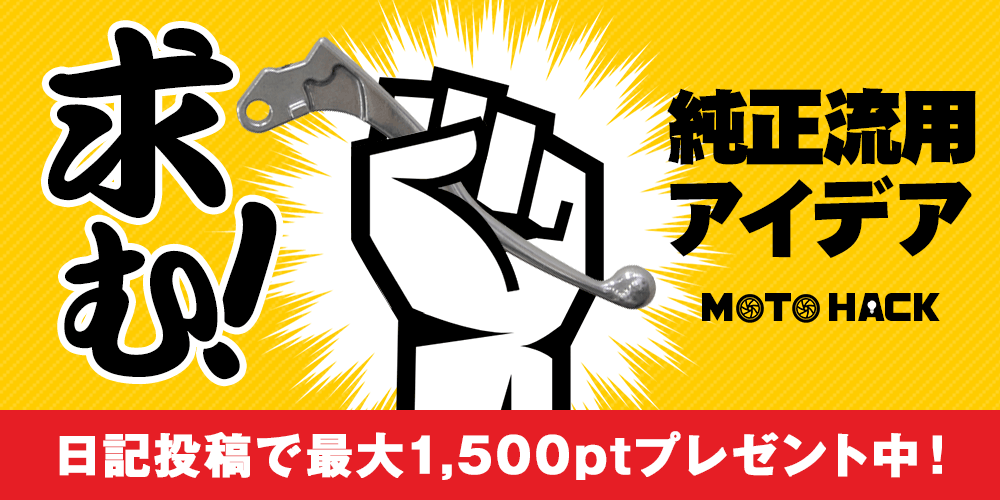 7/If you submit your idea about "diverting genuine parts" until 31, you can use it in Webike.500 pointsas a gift!
Plus, if you're featured in Webike Magazine, you can add1,000 pointsPresent.
Up to 1,500 pointsHere's your chance to get it!
Of course, we will give 1,000 points to anyone who is featured in Webike Magazine, even if it's not a "Genuine Parts Transfer" submission.
The Art of Biking You Have (HACK)!) with everyone!
I'd love to see your posts!
 The articles on MOTO HACK are composed and reprinted from user contributions. The effects and methods described are at the discretion of the user, and Webike is not responsible for any problems that may occur.