Honda PCX125 Genuine HACK
Webike CommunityMOTO HACKFrom the "" campaign, the PCX125 ridingtakasan444cbHere's a passionate narrative from "Mr."!
I'm the owner, so I know how to divert the stock PCX125!
A brief self-introduction
PCX125
Usually I drive mainly in the city, and the mileage is good by the idling stop function, and it is very convenient for shopping. I sometimes do a little touring to a little far away.
A brief description of this HACK
By using JADE's genuine mirrors, visibility and stylishness have been improved.
Parts, tools and things needed for this HACK
Product name JADE genuine mirror
Right Mirror Part No.: 88110-MS9-000 R-Mirror ASSY
Left Mirror Part Number: 88120-MS9-000 L-Mirror ASSY
How to do the HACK, instructions, work instructions, etc.
It's a simple process of replacing the stock, wild-looking mirrors.
Stock, wild mirrors.
Visibility wasn't great either.
JADE factory mirrors installed.
The narrow stay is perfect for the PCX because it is narrow and can be mounted in a standing position.
Summary of HACK
I didn't like the stock mirrors (the ones that came with it from the beginning) because of their poor shape and poor visibility, but when I replaced them with the stock JADE mirrors that I had previously owned, visibility improved and they looked stylish. At first glance they look the same as the stock mirrors on the CB400SF, but the stay bend is slightly different, and the stock JADE mirrors are narrower and can be mounted in a waking position, so they are better balanced with the handlebar width. I highly recommend replacing them with these mirrors.
Rearward visibility is better, looks better, and it's even more fun to run.
Thank you, takasan444cb, for posting that valuable stock diversion HACK!
Webike is looking for your behind-the-scenes tips to enrich your bike life!
~7/Up to 31 "Genuine HACK!You can get 500 points if you post "I'm not a fan of this!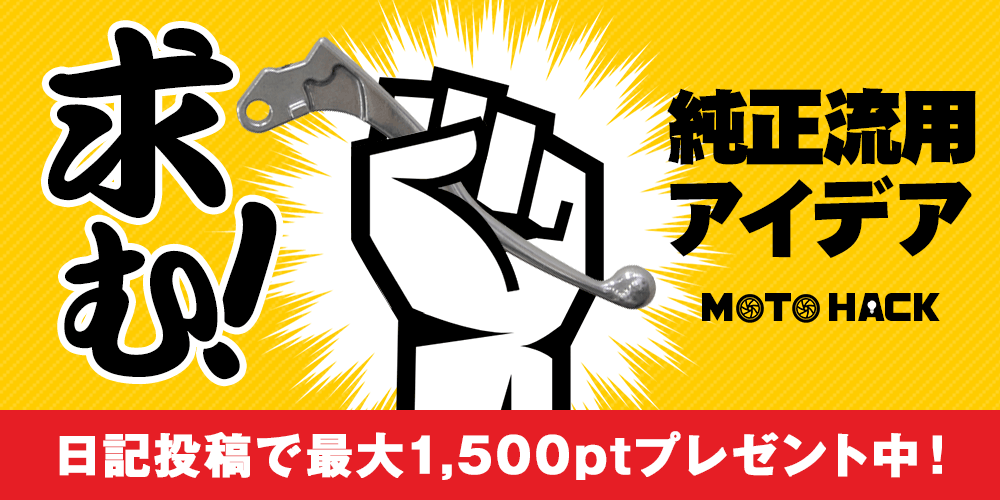 7/If you submit your idea about "diverting genuine parts" until 31, you can use it in Webike.500 pointsas a gift!
Plus, if you're featured in Webike Magazine, you can add1,000 pointsPresent.
Up to 1,500 pointsHere's your chance to get it!
Of course, we will give 1,000 points to anyone who is featured in Webike Magazine, even if it's not a "Genuine Parts Transfer" submission.
The Art of Biking You Have (HACK)!) with everyone!
I'd love to see your posts!
 The articles on MOTO HACK are composed and reprinted from user contributions. The effects and methods described are at the discretion of the user, and Webike is not responsible for any problems that may occur.