Misappropriated information = secret sauce
Are you using genuine parts?
There are a huge number of diversions in the world, from simple diversions such as mirrors and grips, to diversions of swing arms and wheels, and even cylinder head diversions.
We've compiled a list of the advantages and disadvantages of such genuine diversions, and how to find them!
As a side note, I'm personally interested in the customization of a newer model car's switches on an out-of-print car, which is a stock diversion of the newer model.
Out-of-print car switches are the best fit for out-of-print cars ...... and surprisingly the latest switches with mode selector are not bad either. It's not a bad idea.
What's a factory-directed custom?

Genuine parts of a motorcycle are used for customization or dress-up by installing genuine parts of other vehicle models directly to your bike.
This is a technique that has been popular with motorcyclists for a long time, and in some cases, aftermarket parts have been created based on genuine parts that have been appropriated from the factory.
Examples of Famous Parts for Factory Replacement
Rossiglip
TZ Throttle
Brembo master tank for H2
Head for Dax 70
Benefits of Customization
A variety of genuine diversions have been created in the past and present, but why do riders use genuine diversions?
Here's a summary of the benefits of stock diversions!
It keeps costs down.
Stock diverted parts are often less expensive than the custom parts on the market.
That said, in some cases they don't have the instructions and special modifications that you'll find on aftermarket parts, but they're perfect for upgrading while keeping costs down!
Doesn't lose its authenticity.
The advantage of using the factory parts is that you can customize the body without compromising the design of the vehicle.
Some of the factory parts are the same shape, color, or size, so you can make your own original customization by using those parts.
I often use the factory parts, especially the exterior parts, but sometimes the goal is to make it look as if it was already there from the start.
The peace of mind of genuine quality
Genuine parts are those that are of a quality approved by the vehicle manufacturer.
Since vehicle manufacturers manufacture vehicles at huge costs and with too much knowledge, the durability and quality of the genuine parts used in them are also very high.
In some cases, durability is sacrificed for performance in the case of afterparts, or quality is sacrificed for price, so if reliability is your number one priority, this is the right choice.
I can customize a vehicle with no parts!
Some rare or old cars have no aftermarket parts present.
Stock diversions are perfect for customizing those vehicles!
Furthermore, it can be used as a means of getting rid of your car's genuine parts when they're no longer in production, so there's no harm in remembering the art of diversion!
I'm fucked! I'm proud of you!
It's actually a genuine appropriation of xxxx: ......
The stock diversion is like a secret sauce, so to speak. You need to know how to find parts that can be used, the merits of installation, and the modifications that may be necessary depending on the case.
I mean! It's even more challenging than using commercial afterparts, so there's less chance of that rash, and that's something to be proud of!
It's no longer a level of bragging rights just to have the diverting information.
Disadvantages of Customization of Stock Diversion
It may seem like a good thing, but there are some disadvantages to genuine diversion.
In some cases, it needs to be processed.
In case of different grades of the same car, or a sibling car based on the same bodywork, it may be possible to install a pontoon without any modification.
However, in some cases, when diverting from a completely different vehicle, cutting, bending or welding is required.
If it's technically difficult, don't be afraid to hire a specialist or consider an alternative approach.
Now here's a proverb from the motorcycle world.
It's not a matter of luck! Put it on!
Prior research and vehicle knowledge is essential.
Stock diversion is a skill that can only be done with knowledge of the vehicle.
The skill of finding usable parts from the construction and history of your vehicle and floundering is essential.
How to find parts that can be transferred
So how in the world can you find genuine parts that you can divert?
Here's how to find the most common genuine parts!
Search the Internet and ask people.
If you need a quick tip on genuine diversions, this is the way to go!
By drawing on the wisdom of those who have gone before you, you may find ideas you wouldn't have thought of on your own!
There are many different ideas lying around on the internet, so it's probably the quickest way to get some ideas from them.
You may also find stock diversion information lying around on the blogs of shops that specialize in the same bike as your car.
In Webike's diary, there are actually 309 (2020)/07/(As of 2007), a number of genuine diversions have been submitted by you.
I hope you find it helpful!

You may also be able to get information by going to owner's meetings and other places where you can get together with others who ride the same bike.
Get the parts list service manual.
If you're looking for one from scratch, a parts list and service manual are a must-have.
You can find out what parts are on your bike based on this kind of book that lets you know how your bike is constructed and what parts are used.
Measure and find out.
The parts used on the bike are essentially standardized parts.
So, if it's the right size, you can divert it.possibilityThe fact that there are
A common one is wheel diversion, and we use the width of the swingarm and the diameter of the axle shaft as a clue to determine if it can be diverted.
Physical match!
The method of actually preparing and fitting the parts based on a flawed idea that it will probably be attached.
Of course, it's tough to get a bite without any clues, so it's vital to get a bite beforehand.
Some of the staff members were fierce, observing other bikes at roadside stations and other spots where there were many bikes and looking for parts that they could use.
It's a high-risk, high-reward method that involves the risk of failure, but with a sense of accomplishment when you get it right.
Know how to read the original part number.
Most factory part numbers are made up of a string of letters and numbers.
It is extremely difficult to identify a part by its part number alone, but these part numbers may have certain rules.
For example, each bolt and nut on a genuine Honda part has a number, whether it's a hex, socket or countersunk screw. It represents bolt diameter, length and surface treatment.
The construction of these part numbers allows you to get slightly different parts.
Points to keep in mind when using the genuine parts
No forced diversions.

Misappropriation is a recipe for accidents and injuries!
It's a bit of an extreme example, but if you take the stock parts for 50cc and put them on a 1000cc ....... If it came on, you wouldn't expect it to be strong enough, would you?
Diversions like this that are too far beyond the class of the vehicle, or unreasonable installations, are very dangerous! Divert only to the extent that it is safe to do so.
It's your own fault if it sticks!
I tried to put it on because of the internet and the fact that people said it would be attached and it wasn't.
And when you do, don't complain to that person!
The original purpose of a stock part is to be on a vehicle that has been adopted as stock.
Don't forget that you are responsible for your own use of the product in other cars. (Excluding product defects)
I'll show you the genuine diversion for those who follow.
Genuine diversion information is a valuable treasure.
Owners all over the world are looking for your genuine diversion information.
If you have success with the stock diversion, you can share that experience with them.
Webike's genuine diversion diary allows you to narrow down your search by vehicle type information, so it's easy to find!
And now you can go to ......
Webike is looking for your behind-the-scenes tips to enrich your bike life!
~7/Up to 31 "Genuine HACK!You can get 500 points if you post "I'm not a fan of this!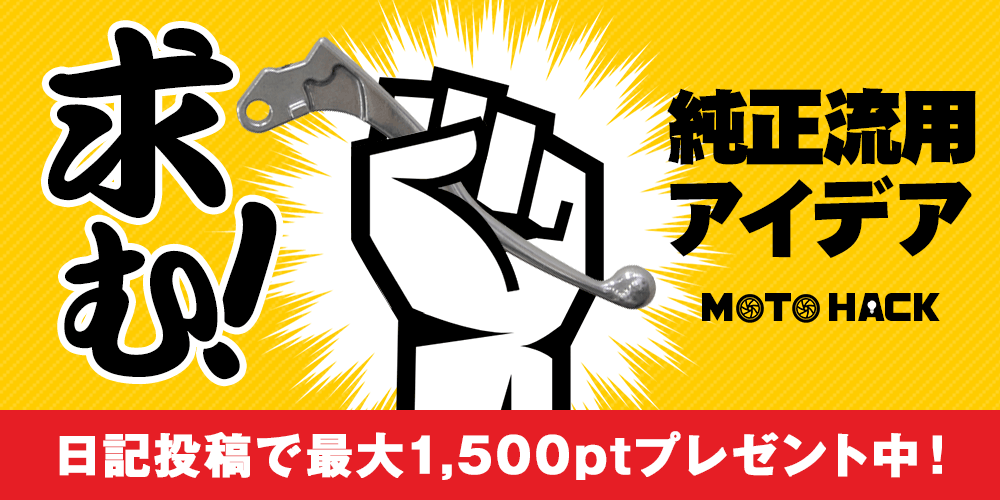 7/If you submit your idea about "diverting genuine parts" until 31, you can use it in Webike.500 pointsas a gift!
Plus, if you're featured in Webike Magazine, you can add1,000 pointsPresent.
Up to 1,500 pointsHere's your chance to get it!
Of course, we will give 1,000 points to anyone who is featured in Webike Magazine, even if it's not a "Genuine Parts Transfer" submission.
The Art of Biking You Have (HACK)!) with everyone!
I'd love to see your posts!
 The articles on MOTO HACK are composed and reprinted from user contributions. The effects and methods described are at the discretion of the user, and Webike is not responsible for any problems that may occur.