Suzuki HAYABUSA Custom by BABYFACE
Japanese Custom Culture
Here is an original series "JCC" stands for "Japan Custom culture" written by Webike Japan. There is no doubt that Japan has one of the best and unique custom parts and its culture in the motorcycle industry, but the language barrier has led to the closure of JDM motorcycle culture to the outside of Japan. Through this JCC contents, we present you one of a kind custom and mods bikes by professional craftmen and enthusiasts who just can't stop loving motorcycle.
BABYFACE's HAYABUSA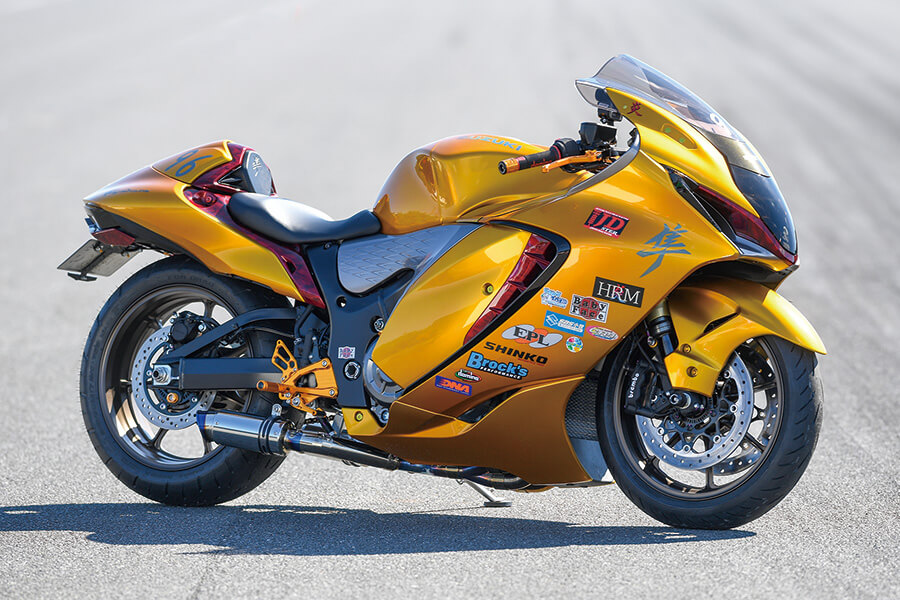 Nearly a year has passed since the third-generation Hayabusa was launched in Japan, and more and more of them can be gradually seen on the streets. Many people may had finally seen it at the Spring Motorcycle Show in 2022, so it may be just beginning to make inroads into the market. This bike was painted gold, lowered with a self-made kit, and equipped with a titanium exhaust with a unique shape that extends from both sides.
Intake & Exhaust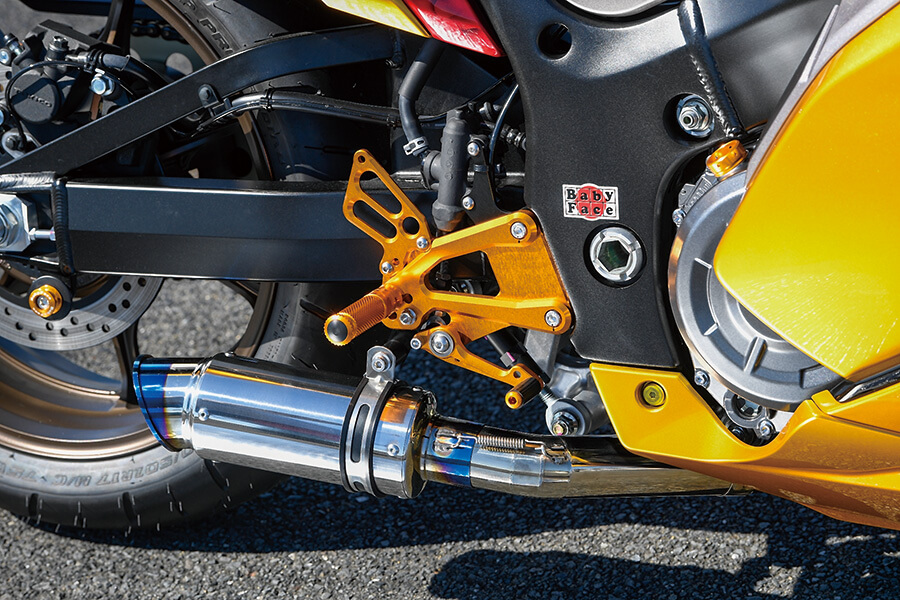 The exhaust is the original one-off full titanium exhaust that also takes into account the bike height, and the left-right exit layout was adopted to accommodate the two O2 sensors in the stock configuration.
Frame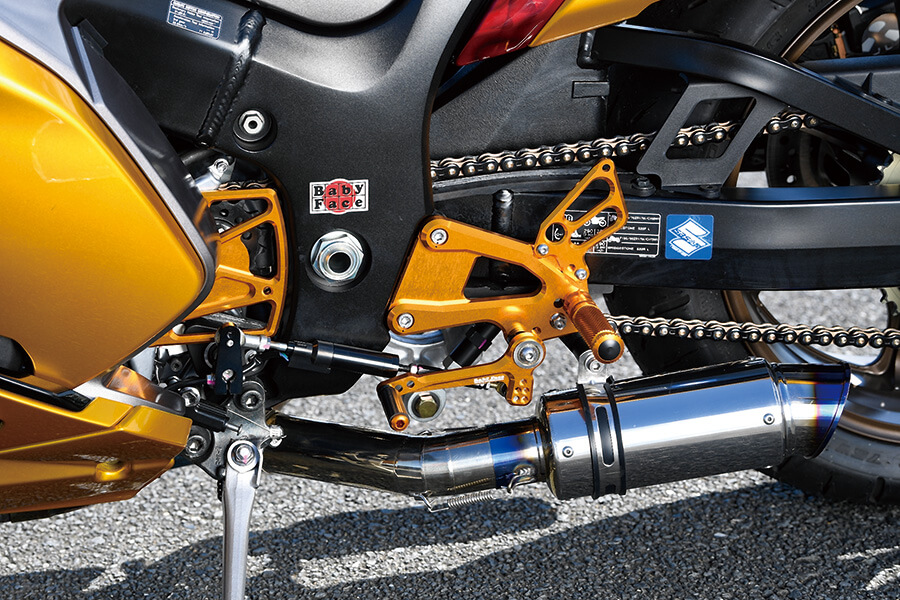 The steps are specially made by BABYFACE for drag racing, with the step bar position set further back than HOMURA SPL Performance Step Kit. The sprocket guard and swingarm stand hooks are also made by BABYFACE, each in gold.
Handle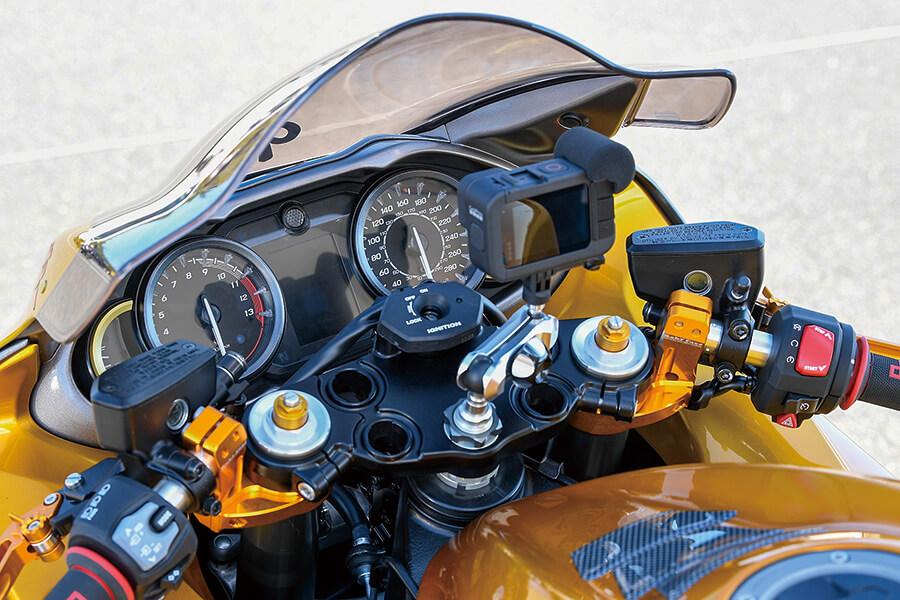 Upper cover is removed from the top bridge, which is rigidified using BABYFACE's "Handlebar Kit High Type Front Offset". The handlebar grips are domino's, and the left and right levers are gold adjustable type. The instrument panel is Hayabusa stock.
Bodyworks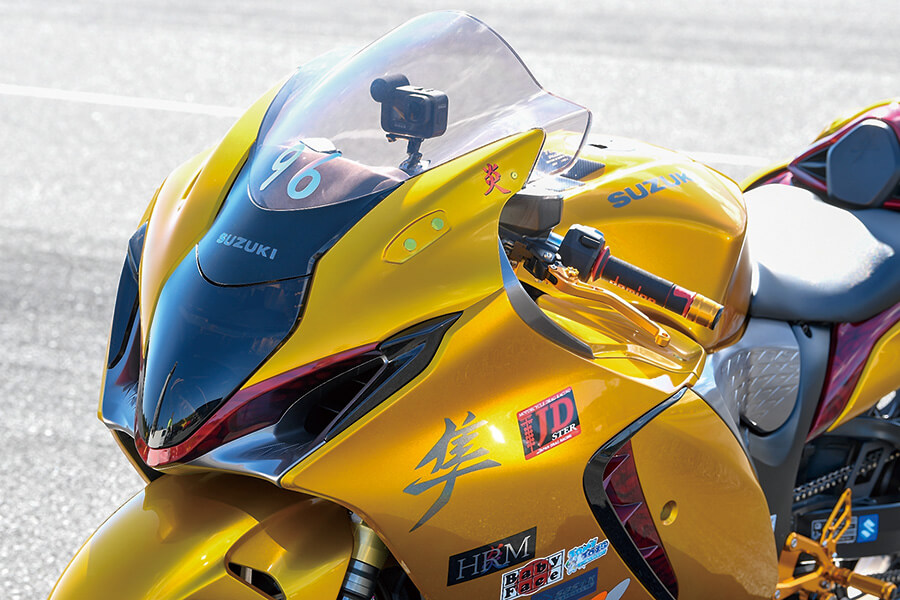 The exterior itself is a stock 3rd generation Hayabusa including the pillion seat cover, which is a stock accessory, and the moist gold color is fully painted by Tommy Toys Design. The front left and right sides are covered with stickers from BABYFACE and other companies that support the rider.
Gallery
Specifications
About BABYFACE
With the exception of special treatments such as anodizing, all of the products released by BABYFACE, both machined and dry carbon products, are designed, prototyped, and mass-produced in-house. Based on past know-how, feedback from users, and actual effects, the materials used for the metal parts and plastic parts of the slider have been carefully selected to suit the application and purpose. BABYFACE is known as Sato Racing is the US.
Original Source of this Article
Heritage & Legends
A foreigner who rides in Japan, Japanese call this "Gaijin Rider". Third year in the Webike global team. He feels and shares the real bike life in Japan then presents you how interesting Japanese customs are.